DESCRIPTION
The Phoenix™1.5 (NSN: 5855-01-396-8734) is a programmable infrared signaling beacon designed for use as a personnel or vehicle marker during night operations.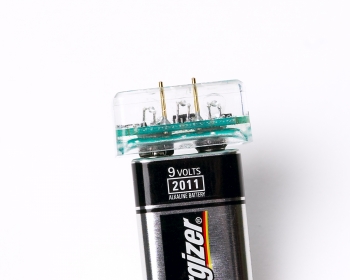 The operator programs a six second user defined flash pattern via the two programming pins. Miniature indicator lights within the device will flash the pattern as it is being recorded by the user to confirm the code being stored. During operation, the user can reactivate the miniature indicator lights at anytime allowing the operator to confirm the broadcast code in situations where their own night vision equipment has become lost or damaged. The stored program is easily erased by removing and reattaching the battery.
The phoenix 1.5 is available in an infrared (NSN: 5855-
01-396-8734), and NV Green (NSN: 5855-01-396-8732) or Red training model.
The Phoenix 1.5 has been utilized by United States Military in a variety of operational theatres such as Kosovo, Bosnia, featured2 Somalia, Afghanistan and Iraq
SPECIFICATIONS
Weight: 1 Ounce | 28 Grams
Size: 1.24" x 0.9" x 0.574" | 31mm x 22.5mm x 14.6mm
Flash Cycle: 6 Seconds
Flash Duration: Programmable
Battery: Common 9 volt
Configuration: 3 Light Emitting Diodes (LED)
Coverage: 240 degrees x 360 degrees
Switching: Attach or remove battery
Operating Depth: The Poseidon - Phoenix / Pegasus Mounting Clip (902801) provides a water tight casing for the beacon and battery assembly. If immersed without the Poseidon case, the unit will continue to operate until the contacts fail due to water and electrolytic corrosion.
Product Datasheet: pdf Phoenix™ 1.5 (162 KB)