DESCRIPTION
Velux™ 3 is a Short Wave Infrared (SWIR) signaling beacon. Constructed from a solid billet of aircraft aluminum, the Velux 3 cylinder walls are more than 2.5mm thick making the beacon virtually indestructible. This tremendous strength coupled with a watertight design make the Velux 3 superbly suited for water to land deployment and special forces operations.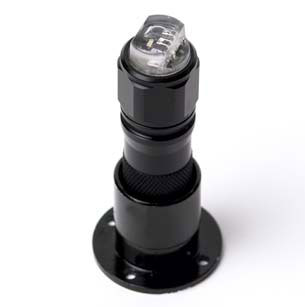 Principally designed as an individual and K9 Combat Identification marker, the Velux 3 has also been used as a vehicle ID marker, and perimeter marker.
The Velux 3 transmits a fixed flash rate SWIR signal identical to the near IR signal transmitted by the Phoenix Jr. (NSN: 5855-01-438-4588). The Velux 3 signal is turned ON or OFF simply by rotating the beacons bezel. The Velux 3 beacon is powered by the CR123A battery and is offered in either a one or two battery versions. Velux 3 includes a 550 cord retention lanyard.
SPECIFICATIONS
Weight (One Battery Version): 2.4 Ounces | 68 Grams with battery and lanyard
Weight (Two Battery Version): 3.8 Ounces | 108 Grams with batteries and lanyard
Size (One Battery Version): 2.6" x 1" | 66mm x 25 mm
Size (Two Battery Version): 3.9" x 1" | 99mm x 25 mm
Flash repeat cycle: 1.3 Seconds (fixed)
Flash duration: 20 Milliseconds (fixed)
Battery: 1 or 2 common CR123A Lithium Batteries
Configuration: 3 IR Emitters
Switching: Rotate bezel
Options: Velux 3 IR 950nm, Velux 3 IR 1050nm, Velux 3 IR 1200nm, Velux 3 IR 1300nm, Velux 3 IR 1450nm, Velux 3 IR 1550nm
Product Datasheet: pdf Velux™ 3 (233 KB)